When deciding on trolling lures, it's important to consider your trolling spread. It's common for offshore fishermen to have multiple lines out, some wide, some long, some short, some deep, and some shallow lines. There is a multitude of lures available on the market, each of them with an optimal depth in the spread.
Although trolling is commonly done offshore with live or dead baits, baits can be expensive and rarely last long. If you plan to catch your live bait yourself, it can be frustrating if you fail to catch any, or fail to keep it alive during the day. Trolling with lures can be much easier and more cost effective in the long run.
Trolling with lures is commonly done with surface lines and deeper lines. Teasers, and chuggers are used on the surface. Sinking twitchbaits and diving crankbaits are used on deeper lines. Versatile soft plastic squids and skirts are used on surface lines or paired with weight and dead baits subsurface.  
This article will talk through common lure options for surface lines, and deeper lines. Some lures are versatile and can be rigged differently to work at a variety of depths. Read on to see how to build your arsenal of trolling lures to help you build the best spread.
Trolling Lures for Surface Lines
A trolling spread nearly always includes at least one surface line, or flat line. A flat line is a line that is trolled directly on the water surface. Some surface lines use teasers to attract fish, like artificial birds or squids that have no hooks in them. When this is done, the hooks are usually on another line nearby or daisy chained behind the teaser.
The purpose of trolling a surface line is to draw the bite up towards the surface. The lures on the surface will create water disturbances like bubbles, splashes, and darting patterns. Bubbles are created from something like a chugging lure with a concave head and darting patterns are created from pencil lures such as a cedar plug. Artificial birds have short wings that splash and occasionally have rattles for even more commotion.  
Below are some examples of lures to use on a surface line when trolling:
The black and purple super chugger is a great lure. The head is deeply concaved to produce big bubbles and the body is long enough to attract bigger fish. These work great to attract many of the common species such as mahi, tuna, and wahoo since they work well at any trolling speeds. Although they're durable, it's hard for any soft lure to withstand bites from wahoo or bluefish, so I'd recommend keeping a couple spares on board. The bubbling action of this lure makes it work best on a surface line.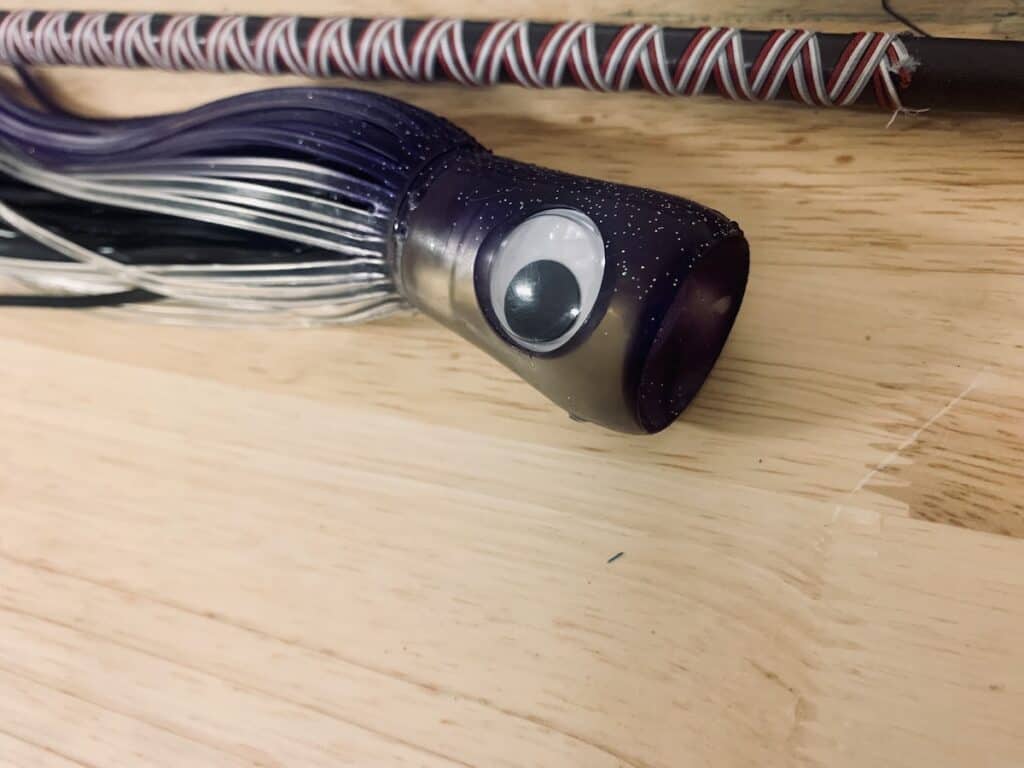 There are several possibilities for rigging this lure. You can rig it solo with heavy mono and a J hook, or rig it as the leading teaser in an artificial squid daisy chain. It also works effectively when rigged as a skirt over a whole dead bait like ballyhoo. The chugging action gives it more interest than a dead bait and the skirt helps prevent the bait from deteriorating at high speeds.
The cedar plug is about as simple as a lure can get. It consists of a conical shaped lead head with a wooden body and a hook off the end of the lure. It's a pencil lure that darts erratically when trolled. The darting action effectively mimics the behavior of an injured baitfish. Although the cedar plug isn't flashy and high tech, this tried and true lure is still a favorite by many anglers when targeting tuna.
Cedar plugs can be trolled individually on the surface, or behind a trolling lead or planer at depth. They can even be effective when daisy chained together. I always recommend keeping a cedar plug on board. Even if it isn't your first choice, it offers a good change up when the fish stop striking. I keep the 6 inch, natural color on board.
My article on the Best Tuna Lures, includes classic cedar plug.
Using artificial birds on the surface as a teaser is a great way to create interest at the surface. This Sterling Tackle Crazy 8 Chain has 8 bird teasers in a line, followed by a single soft plastic skirted lure with a hook. The birds will splash and rattle to attract tuna, king mackerel, wahoo, and mahi. These birds also include a rattle for more noise.
This daisy chain creates lots of interest and always gets strikes when trolling near flotsam for mahi or trolling over humps for wahoo. With the bird teasers, this lure is meant only for a surface line.
Soft plastic squid lures are typically used in a daisy chain or spreader bar formation. The daisy chain sometimes has a teaser in front like a super chugger. Squids come in many different color patterns and are usually rigged with heavy monofilament. The squids are resilient against hard strikes.
A spreader bar consists of a flexible bar with lines coming off it and attaching to squids. This is a great way to imitate a group of squid using only one rod and reel. Some of them even come with a teaser bird in front for additional action.
The daisy chains and spreader bars normally come in a bag with mesh on one side and grommets on the top. The grommets are used to hold the bag up and the daisy chain or spreader bar is put inside the bag and sprayed down through the mesh for cleaning. The mesh allows the water to drain and the lures to dry.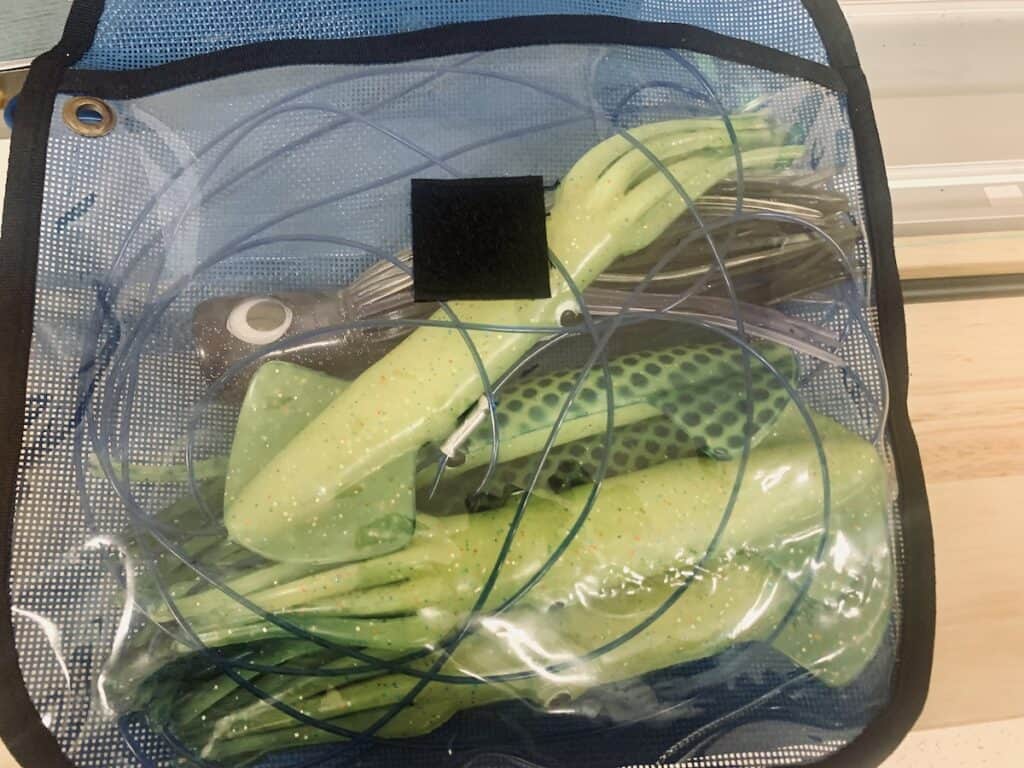 The squid daisy chain is one of my go-to setups when targeting mahi. To learn more about the different species you can target with trolling, read my article on Trolling Species.
Trolling Lures for Subsurface Lines
Trolling a lure just beneath the surface uses different methods of attracting fish. At this depth, you won't have bubbles or water patterns on the surface, so you need something else to create the attraction.
Lures designed to keep depth on their own tend to twitch back and forth, and even vibrate. They also tend to have flashy color patterns to help reflect light to catch the attention of nearby fish. Trolling lures like these will either be designed with internal weights to achieve this depth, or with a diving lip to drive the lure down.
Other times, a subsurface line consists of a versatile lure combined with a trolling lead, planer, or downrigger to bring it down to a certain depth. This can be done with a spoon, pencil plug, or soft plastic skirt.
The Yo-Zuri Bonita is a trolling lure that's weighted to keep depth. When the speed of the boat increases, the lure will swim shallower, but will remain under the surface all the way up to 15 knots. This lure is great for targeting wahoo around ledges or humps.
The lure is rigged with two strong hooks with swivels to keep them straight. The lure swims in a tight pattern. Like most Yo-Zuri lures, the realism in the eyes and the artwork of the lure are fantastic.  If additional depth is desired, you can rig this lure behind a trolling lead.
The Nomad Madmac is similar in concept to the Yo-Zuri Bonita. The Madmac is weighted to maintain weight when trolled at broad speed ranges. The Madmac features more of a vibrating action than the Bonita, so its worth trying both lures. This is a heavy duty lure, constructed of stainless steel and foam to withstand the strongest strikes from the biggest fish.
Like the Bonita, the Madmac is rigged with heavy duty lures and is usually trolled without a weight. A lead or planer can be used to get more depth if preferred. These two lures are one of the most productive designs when targeting wahoo because they can withstand the high speeds required.
Another type of trolling lure is a diving crankbait. These are lures with a plastic lip protruding out the front of the lure to make it dive. The bigger the lip, the deeper the dive.
One advantage of trolling with diving crankbaits is the ease of getting the lure close to the boat. When trolling with a weight or a planer, you'll have to stop reeling when you reach the planer or weight and either remove the planer to keep reeling, or handline in the leader beyond the lead. A crankbait stays at depth with nothing impeding you from reeling in the fish.
The disadvantage of trolling with diving crankbaits is the difficulty of getting it to run true sometimes. If the eyelet bends the slightest bit, the change in action is exaggerated by the lip and the lure won't run true. The Rapala X-Rap Magnum and the Nomad DTX Minnow both have strong eyelets to minimize the chances of bending, but it should still always be checked before letting a line out.  
A Drone spoon or Clarkspoon are simple lures with a proven record of catching all kinds of fish on the troll. Both of these can be trolled on a surface line, or paired with weight and trolled at depth.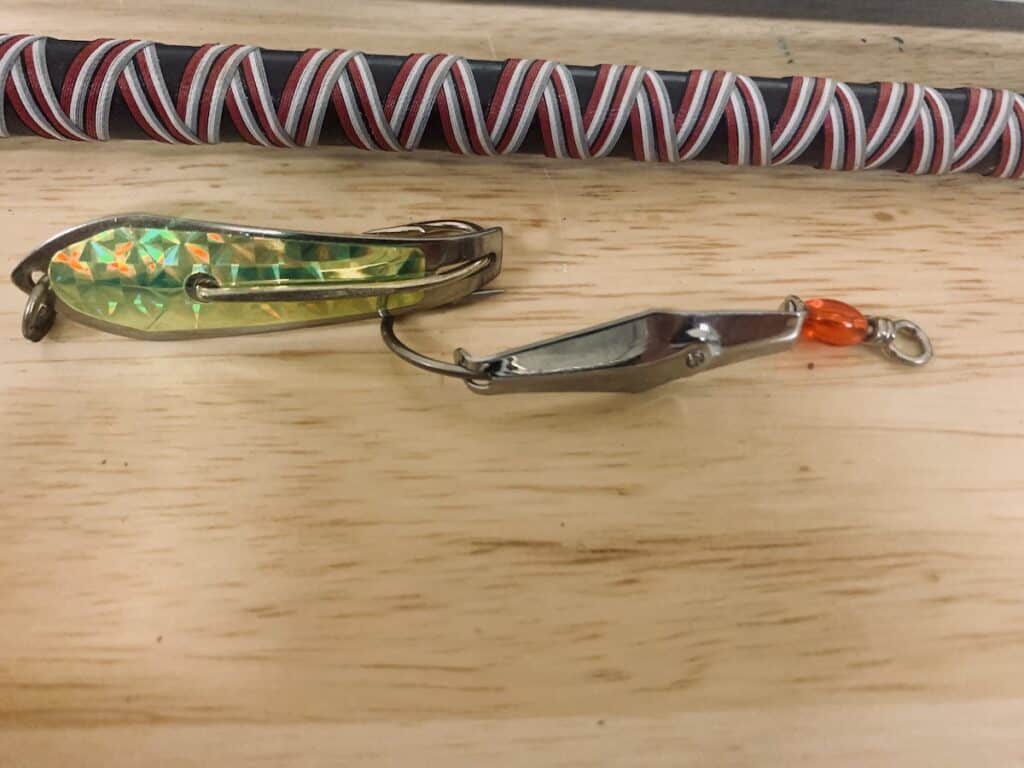 The Drone spoon has a more erratic action to mimic a fleeing or injured baitfish. The Clarkspoon swims tight and straight and attracts fish with flash. These lures are generally low tech, old school lures, like the cedar plug, but they are still widely used. Sometimes a simple lure is best.
Trolling skirts are soft plastics that can be trolled in a variety of ways. They can be trolled alone as a flatline, with a sinker at depth, or with a sinker at the front and a whole dead bait at the back.
These skirts can also be added to existing lures to add more color or change the color. The uses for them are nearly endless, so they have become a must have for many offshore anglers. The 3 ½ inch size is great to dress up smaller baits. I like the hot pink color, and I keep a variety on hand.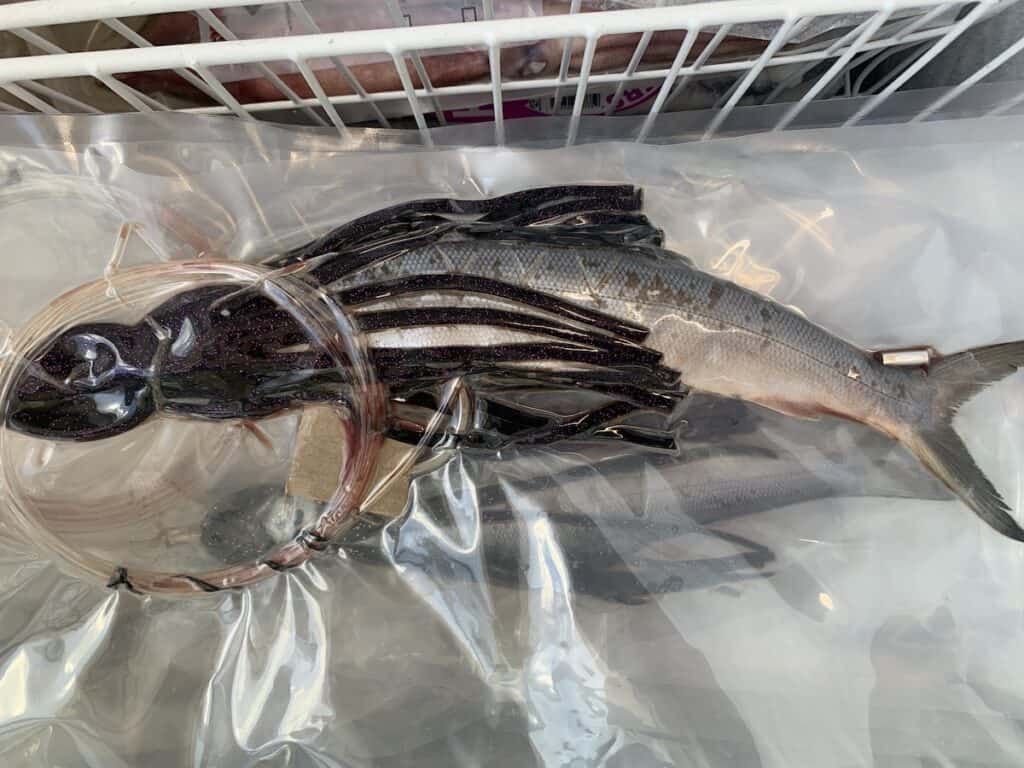 My article on Trolling Hooks discusses how to choose the right size hook for targeting different species with baits.
Whether you're trolling one line or six, the lures discussed in this article will attract some of the most sought after trolling species. Tuna, mahi, king mackerel, and wahoo can all be caught with these lures. Tight lines, y'all!